Previous Post:
On the dangers of exploration — medieval version
&nbsp Next Post:
Carlin Romano's America the Philosophical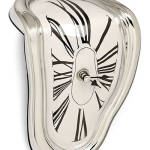 Two economists channel Miss Manners and Robert's Rules of Order — or why good time-management manners have practical value.
Mike Munger on lateness and punctuality. (I need to get me a terrifying assistant.)
And Alex Tabarrok on the economics of punctuality.
Tags: Alex Tabarrok, lateness, Mike Munger, Miss Manners, punctuality, Robert's Rules of Order