&nbsp Next Post:
Sculpture name and place?
Carrying on the fun Renaissance debate about which art form is the best.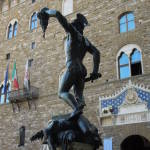 Benvenuto Cellini (1500-1571) was a goldsmith, sculptor, revenge-killer, likely a rapist, and party animal. Check out his Autobiography for all the energetic and sordid true-confessions details.
It was he who did the bronze Perseus with the Head of Medusa, now in the Loggia dei Lanzi in Florence, this charming piece of erotica, the Saliera, and other significant works.
In response various claims of the superiority of painting to sculpture, Cellini argued that a painter has to be concerned with only one view.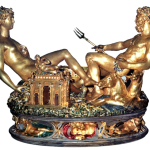 By contrast: "I say that the art of sculpture is eight times as great as any other art based on drawing, because a statue has eight views and they must all be equally good … ."
(Which makes one wonder: What would Cellini say about architecture? Or literature, with its ability to take multiple perspectives of character and narration?)
Source:
Robert Goldwater and Marco Treves, editors, Artists on Art: From the XIV to the XX Century (Pantheon, 1945, 1972), p. 87.
Related:
"The best art form — architecture version."
Flavia Atzeni's brief account of the dramatic casting — explosion! fire! — of Perseus. Cellini gives a longer account in his Autobiography.
Tags: Benvenuto Cellini, Flavia Atzeni, Marco Treves, Medusa, Perseus, Robert Goldwater, Saliera