Previous Post:
Artistic Genius documentary — Europe locations
&nbsp Next Post:
Artistic Genius — Impressionists in Paris
Filming today in Haarlem, primarily in connection with Pieter Saenredam's renditions of the interior of the Bavokerk, and in Amsterdam for its importance to art in the Dutch Golden Age of the 17th century.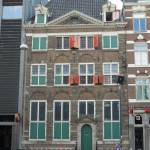 Here is Rembrandt's house in Amsterdam, in which he lived and worked, along with his apprentices, from the 1630s until the 1650s, when he went bankrupt and had to sell and move.
The gentleman in the picture wearing a purple-blue shirt and having a cigarette is a tour guide for the Rembrandt House Museum. He was on a break but enthusiastic enough to give me a mini-lecture on Rembrandt's living arrangements — studio on the top floor, north-facing windows for the indirect light, for example — and the ongoing challenge of sorting out which paintings with Rembrandt's name on them were made by the master himself and which were copies made by his very proficient apprentices.
Tags: Pieter Saenredam, Rembrandt, Rembrandt bankruptcy, Rembrandt in Amsterdam