Previous Post:
The best art form — architecture version
&nbsp Next Post:
Artistic Genius — Haarlem and Amsterdam
We are currently working on a new documentary with the working title Artistic Genius: When It Flourishes. The question I take up is why art flourishes so awesomely in some places and times — classical Athens,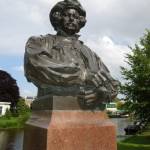 Renaissance Florence, the Dutch Golden Age, nineteenth-century Paris — but is stagnant in others.
Some of our production team worked with me on Nietzsche and the Nazis, but we have several new members — and quintuple the budget. I will look forward to introducing the team and updating on progress in future posts.
For now, here is a statue of Rembrandt in his birth city of Leiden, Netherlands. Off to Haarlem and Amsterdam later today.
Tags: artistic genius, Leiden, Nietzsche and the Nazis, Rembrandt