John Adams, the mini series
[Reposted for this 4th of July.]

John Adams the mini-series came out last year, but I just began watching it yesterday. The first two episodes are excellent. What a great way to spend part of July 4.
Paul Giamatti's performance hooked me: I have a renewed appreciation for John Adams's brilliance, determination, and integrity. I also have an enlarged appreciation for Abigail Adams's energy, devotion, and no-nonsense intelligence; Laura Linney plays Abigail in the series.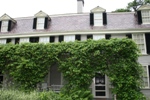 Coincidentally, I was in Boston late last month and took a day trip to Braintree and Quincy, Massachusetts, where I enjoyed seeing Adams's birthplace and the Old House, with its great garden and grounds.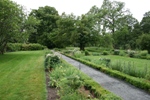 Back to the mini-series: Stephen Dillane's cerebral and understated performance as Thomas Jefferson was hypnotic—I found myself staring trying to figure out what he was thinking.
Not coincidentally, there have been two intriguing Jefferson items in the New York Times and the Wall Street Journal, the first a journalist's quirkily touching visit to Monticello and the second on Jefferson the musician. Well worth reading.
Also not too coincidentally, I recently interviewed two Adams and Jefferson scholars. Professors Brad Thompson and David Mayer visited Rockford College and the Center for Ethics and Entrepreneurship this spring, and videos of my interviews with Thompson on Adams and Mayer on Jefferson can be viewed at the Center's site.