Brazil Fórum da Libertade report

I spoke on Educating for Entrepreneurship at the Fórum da Libertade in Porto Alegre, Brazil this week. Over 4,500 people attended the two-day conference with many high profile Brazilian business, cultural, and political leaders.
My talk was one of two in a panel on the theme of Education: Obey, Think, or Create? The panel was moderated by Tiago Mattas, and my co-panelist was Claudia Costin, secretary of education for Rio de Janeiro.
Here is a report, in Portuguese, of our session. The Google translate version is:
'The sixth panel "Education: Obey, think or create?" Tiago Mattos introduced the speakers, Stephen Hicks and Claudia Costin.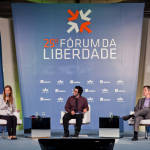 'Claudia Costin, municipal secretary of education in Rio de Janeiro and university professor at FGV / RJ was the first to speak. She began her presentation by comparing data from previous decades with current education and criticized the functional illiteracy, the public and private education in the country and the automatic approval system used in some public school systems.
'Then Claudia talked about the importance of building an academic course, which may be accompanied by students and parents. She also stressed the fact that Brazil is a country that says little. "The price of the book is a result of being a country of non-readers," noted Claudia.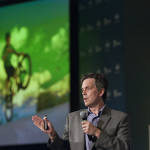 'Professor of Philosophy and Executive Director of the Center for Ethics and Entrepreneurship of Rockford College in Illinois, Stephen Hicks, continued the panel. He began his speech by comparing the situation of education in the United States and Brazil, highlighting the extra-curricular activities, especially sports, from American schools.
'In addition, Hicks made ​​a critique of how schools tend to standardize the behavior of children. "After a few years in school, children begin to lose the light in their eyes, say they do not like art or science," he said, and added that he believes in fun as a key element in children's development: "Children learn about serious things the world when they play," he said.'
More coverage here, here, here, and more fully here. Video of the event is to be posted soon.
My thanks to Ricardo Gomes, president of the sponsoring Instituto de Estudos Empresariais (IEE), for inviting me to the conference, and to Albert Ling who efficiently helped me with logistics, and my congratulations to the sponsors for an unusually well organized and energetic event.