The Bases Foundation has announced its Fourth International Conference, to be held in August in Rosario, Argentina, on the theme of "The Austrian School of Economics in the 21st Century".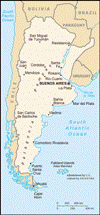 The conference has an impressive lineup of speakers, including Lawrence White of George Mason University, Christopher Lingle of Universidad Francisco Marroquín, Karol Boudreaux of the Mercatus Center, and others.
I enjoyed very much my time at the 2010 conference. My talk was video-recorded and later posted online.
Two of the Bases Foundation's leaders, Federico Fernández and Martin Sarano, visited the Center for Ethics and Entrepreneurship at Rockford College in 2011 and gave a talk, after which I interviewed them about the business climate in Argentina.
Related: Eduardo Marty — the full Kaizen interview.
Public and private transportation, Buenos Aires style.
Argentina, Hong Kong, and the psychology of belief.