Creative geniuses as selfish — Rachmaninoff version
The great Rachmaninoff on what the creator needs and what this implies for others:
"A creator is a very limited person. Always he revolves around his own axis. There is nothing for him but his own creative work. I agree that the wife has to forget herself, her own personality. She must take upon herself all the physical care and material worries. The only thing she should tell her husband is that he is a genius. Rubinstein was right when he said that a creator needed only three things—'praise, praise, and praise.' The most frequent mistake of the wives is that they take the creator for an ordinary man. There is not enough understanding. Take Tolstoy: if he had a stomach pain, he talked about it all day long. But the trouble was not in the stomach at all; it was in the fact that he could not work that day. This is what made him suffer. There is not enough understanding of what a creative artist needs. This is why Tolstoy was so miserable."
Rachmaninoff says that the creator needs a partner who is only a combined devoted-servant-and-cheerleader. Why?
* Is it because extraordinary individuals operate on a level of emotional and intellectual focus and intensity that ordinary people cannot share, so the ordinaries must either submerge themselves into a supporting role or get out of the way?
* Is it because the time commitment of creativity leaves little-to-nothing for other life activities?
* Or is it that the creative genius does not transition well from creative work to other aspects of life — that is, he cannot be a multi-tasker?
Reminds of Nietzsche's line — "A married philosopher belongs in comedy" — that it's a joke to combine first-rate philosophy with the commitments of married life. [My reaction to that, as a married guy, has always been, #*@% you, Friedrich.]
And about the "praise, praise, and praise." How could that have any meaning to the creator if it's coming from someone who has forgotten her own self and personality?
Another implication of Rachmaninoff's point seems to be that a creator could have no significant relationships in his life. What he says about wives also applies to friends, creative partners, and children. We all face trade-offs of time and energy, but I don't see in principle why — with the right personal character and the right other people — one cannot combine creative work with great romance, great friendships, and great family life.
Further — that those relationships could enhance rather than detract from one's creative work life. Difficult: yes. Impossible: no. And shouldn't the truly selfish creator want the best of everything?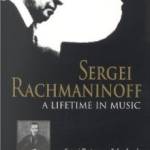 Related:
How great artists become great.
More on how great artists become great.
Creative geniuses as selfish — Richard Wagner version.
Creative geniuses as selfish — Maria Callas version.
Creative geniuses as selfish — Beethoven version.
Source: Sergei Bertensson and Jay Leyda's Sergei Rachmaninoff: A Lifetime in Music (Indiana University Press, 2001), p. 288.