Previous Post:
Peter Diamondis on abundant human potential
&nbsp Next Post:
Brazil talk on educating for entrepreneurship
Entrepreneurial Resilience in New Orleans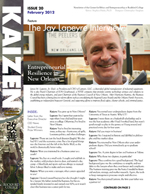 My full interview with Jay Lapeyre is now posted at the Center for Ethics and Entrepreneurship's site. Lapeyre is the CEO of The Laitram Corporation. I met with him in New Orleans to discuss natural disasters and corrupt politics, leadership, and the state of American manufacturing in our global economy. A shorter version of the interview was published last month in Kaizen.
More of my Kaizen interviews with leading entrepreneurs are at my site here or CEE's site.