Income inequality and broken families — a modest proposal
I have taken to heart all the left-leaning outrage at the unequal distribution of wealth — 1% versus 99% !!! — as well as all the social conservative angst over the breakdown of the traditional family. Sobering stuff.
In all modesty, however, I believe that I have hit upon a totally awesome solution that will satisfy both groups at once:
Let's ban women from the workplace.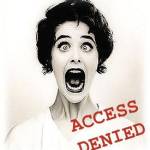 The leftish will love that all those double-income couples will find their income halved. And the newly-vacated jobs can be filled by unemployed family men, thereby increasing the wealth of those currently poorer. A giant step towards income equality!
The so-cons will applaud that more women will now devote more energy to their families. And without independent income, the womenfolk will have more incentive to stay married, so divorce rates will plummet. A giant step towards family stability!
Brilliant, or what? Two birds, one stone, and there will be peace in the land. No need to thank me, since that's just the kind of guy I am — always thinking: How can I arrange other people's lives to make everybody happy?
Our only obstacle: Those stuck thinking that unbridled economic freedom trumps benevolent social planning.