Previous Post:
Kindle edition of Explaining Postmodernism, Expanded Edition, now available
&nbsp Next Post:
My interview for ReelNews on art and free markets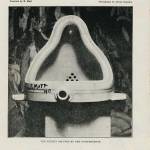 A Spanish translation of my "Why Art Became Ugly" has been published online. I do not know the translator, but to him or her I say: "Thanks!"
The original piece was published in English in Navigator in 2004 and is now online here and has been translated into German [pdf], and Korean [pdf]. It's also included as a supplement in the Expanded Edition of my Explaining Postmodernism.
Tags: Explaining Postmodernism, modern art, postmodern art