Previous Post:
Expanded edition of Explaining Postmodernism published
&nbsp Next Post:
Three talks at Cato-IHS seminar
The latest issue of Kaizen [pdf] features my interview with John Allison, recently retired CEO of BB&T bank. The theme of the interview is Entrepreneurial Banking,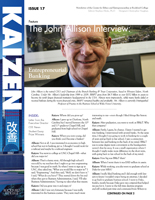 about which Allison is perfectly positioned to speak. During his 20-year tenure as CEO, BB&T's assets grew from $4.5 billion to $152 billion and, almost more impressively, BB&T has weathered the financial storms of the last few years comfortably and remains healthy and one of the largest banks in the nation. A related post on Allison is here.
Also featured in this issue of Kaizen are the latest CEE student essay contest winners — Jennifer Harrolle, Alyssa Baggio, and Derek Garcia — the Philosophy Department's Walhout Prize winner, Nathaniel Branch, and a report on guest speaker David R. Henderson, and other news from the Center for Ethics and Entrepreneurship.

If you would like to receive a complimentary issue of the print version of Kaizen, please email your name and postal address to CEE [at] Rockford [dot] edu.
More Kaizen interviews with leading entrepreneurs are at my site here or CEE's site here.
Tags: Alyssa Baggio, David R. Henderson, Derek Garcia, Jennifer Harrolle, John Allison