Previous Post:
FedEx and UPS versus USPS
&nbsp Next Post:
Do conservatives value economic liberty?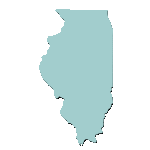 This year's ranking of Illinois among the worst states for business and the retrial of Rod Blagojevich for corruption — meaning he could become the fourth Illinois governor in recent years to go to prison — have inspired the following update:
Illinois: Where governors go to jail and business can go to hell.
Just a suggestion.
Tags: best states for business, Illinois governors jail, political corruption, Rod Blagojevich, worst states for business