Franz Schubert's early death
Franz Schubert was a great lyrical composer of the early nineteenth century. He died at the relatively young age of 31, and while his music is usually too melancholy for my taste, what a sadness.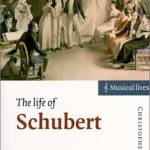 Franz was lucky to get that many years. Biographer Christoper Gibbs reports that Schubert's parents had fourteen children and "nine of their fourteen children died in infancy." That's from The Life of Schubert (Cambridge University Press, 2000, p. 23).
The death rate for infants was appallingly high before the twentieth century, as it was even for those who survived to adulthood.
Among musicians, here's a partial list: Mozart died at 35, Carl Maria von Weber died of tuberculosis at age 40. Bellini died at 36, Chopin at 39, Bizet at 34, Glinka died after a cold at age 52, Mendelssohn at 38, Mussorgsky at 52, Schumann at 46, and Tchaikovsky died at age 53, most likely of cholera.
What a carnage.