Kaizen 14 — the Mary Mazzio interview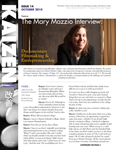 The latest issue of Kaizen [pdf] features my interview with Mary Mazzio, award-winning documentary filmmaker, Olympic rower, and former law firm partner with Brown Rudnick. The theme of the interview is Documentary Filmmaking and Entrepreneurship. I hope you enjoy my wide-ranging discussion with the multi-faceted Mary Mazzio, including her latest project, Ten9Eight.
Also featured in Kaizen are the latest student essay contest winners — Rebecca Logan, Joshua Branch, and Jaime Binning — a report on guest speaker Douglas Rasmussen, and other news from the Center for Ethics and Entrepreneurship.
My full interview with Mary Mazzio will be posted at the CEE site next month.
If you would like to receive a complimentary issue of the print version of Kaizen, please email your name and postal address to CEE [at] Rockford [dot] edu.

More Kaizen interviews with leading entrepreneurs are at my site here or CEE's site here.