Douglas Rasmussen to speak at Rockford College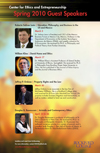 On Friday, April 23 and Monday, April 26, philosopher Douglas Rasmussen will speak at Rockford College on Aristotle, ethics, and philosophy. Dr. Rasmussen is Professor of Philosophy at St. John's University in New York. He received his Ph.D. from Marquette University and is the co-author of Norms of Liberty: A Perfectionist Basis for Non-Perfectionist Politics, Liberalism Defended: The Challenge of Post-Modernity, and many other works.
For venue details, please contact CEE [at] Rockford [dot] edu.
The image above links to a jpeg version of the flyer for all of this semester's guest speakers. For the pdf, click here. Dr. Rasmussen's talk is sponsored by the Center for Ethics and Entrepreneurship.