On the "blond beast" and racism [Section 28 of Nietzsche and the Nazis]
[This is Section 28 of Nietzsche and the Nazis.]
28. On the "blond beast" and racism
Take the phrase "the blond beast."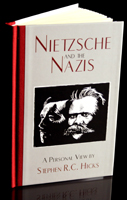 In recoiling from what he saw as a flaccid nineteenth-century European culture, Nietzsche often called longingly for "some pack of blond beasts of prey, a conqueror and master race which, organized for war and with the ability to organize, unhesitatingly lays its terrible claws upon a populace."[87] And he spoke of "[t]he deep and icy mistrust the German still arouses today whenever he gets into a position of power is an echo of that inextinguishable horror with which Europe observed for centuries that raging of the Blond Germanic beast." And again inspirationally about what one finds "at the bottom of all these noble races the beast of prey, the splendid blond beast, prowling about avidly in search of spoil and victory; this hidden core needs to erupt from time to time, the animal has to get out again and go back to the wilderness."[88]
What are we to make of these regular positive mentions of the "blond beast"? It is clear what the Nazis made of them—an endorsement by Nietzsche of the racial superiority of the German Aryan type.
But for those who have read the original Nietzsche, that interpretation clearly takes Nietzsche's words out of context. In context, the "blond beast" that Nietzsche refers to is the lion, the great feline predator with the shaggy blond mane and the terrific roar. Nietzsche does believe that the Germans once, a long time ago, manifested the spirit of the lion—but they were not unique in that regard. The spirit and power of the lion have been manifested by peoples of many races.
To see this, let us put one of the quotations in full context. The quotation begins this way: "at the bottom of all these noble races the beast of prey, the splendid blond beast, prowling about avidly in search of spoil and victory; this hidden core needs to erupt from time to time, the animal has to get out again and go back to the wilderness …"
Now let us complete the sentence as Nietzsche wrote it: "the Roman, Arabian, Germanic, Japanese nobility, the Homeric heroes, the Scandinavian Vikings—they all shared this need."[89]
So Nietzsche clearly is using the lion analogically and comparing its predatory power to the predatory power that humans of many different racial types have manifested. Nietzsche here lists six different racial and ethnic groups, and the Germans are not special in that list. So while Nietzsche does endorse a strongly biological basis for cultures, he does not endorse racism of the sort that says any one race is biologically necessarily superior to any other.
This is a clear difference with the Nazis. The Nazis were racist and thought of the Germanic racial type as superior to all others the world over. Nietzsche disagreed.
This leads us directly to a second major point of difference.
[Update: The entire Nietzsche and the Nazis in hardcover and Kindle at Amazon.]
References
[87] GM 2:17.
[88] GM 1:11.
[89] GM 1:11.
[Bibliography.]
[Return to the Nietzsche and the Nazis page. Go to the StephenHicks.org main page.]