Previous Post:
In Defense of Advertising by Jerry Kirkpatrick
&nbsp Next Post:
Joshua Hall on school finance reform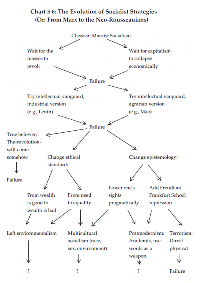 Or: "From Marx to the Neo-Rousseauians."
The flowchart is from the end of Chapter 5 of my Explaining Postmodernism: Skepticism and Socialism from Rousseau to Foucault, summarizing the argument developed in that chapter.
Click the image to enlarge.
More excerpts are available at the Explaining Postmodernism page.
[This is an excerpt from Stephen Hicks's Explaining Postmodernism: Skepticism and Socialism from Rousseau to Foucault (Scholargy Publishing, 2004, 2011). The full book is available in hardcover or e-book at Amazon.com. See also the Explaining Postmodernism page.]
Tags: Explaining Postmodernism, left environmentalism, Lenin, Mao Zedong, Marxist Socialism, Rousseauian socialism