The Enlightenment Vision — Flowchart
The Enlightenment of the long 18th century was an era of awesome intellectual and cultural transformation.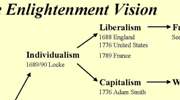 My Enlightenment Vision flowchart [pdf] is pitched at a high level of abstraction, showing schematically how the philosophical revolution of the 17th century led to the 18th-century revolutions in science, technology, politics, and economics — which in turn led to the dramatic increase in health, wealth, freedom, and goods in the 19th century.
To put it another way, the chronology shows how the ideas played out as philosophy, then as an intellectual movement, then as activism, then as the working technology of culture.
I use the chart in my classes and published a version of it in my 2004 Explaining Postmodernism. It's here as a PDF and as an Excel file, in case you'd like to adapt it for your own purposes.
[This is an excerpt from Stephen Hicks's Explaining Postmodernism: Skepticism and Socialism from Rousseau to Foucault (Scholargy Publishing, 2004, 2011). The full book is available in hardcover or e-book at Amazon.com. See also the Explaining Postmodernism page.]