Pathologies of the mixed economy (or, How we got into this frackin' mess)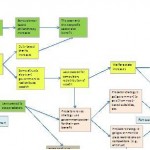 Putting into one flowchart what I have learned from Adam Smith, Ayn Rand, Ludwig von Mises, Friedrich Hayek, Milton Friedman, James Buchanan, and Gordon Tullock.
The flowchart is in spreadsheet format: the short version and the long version in Excel 2007 or in Excel 97-2003. Update: DJ Dates has a cool, scalable Google maps version of the flowchart at his website.
Feel welcome to modify and add to as you wish.
I'm in the midst of discussing this material in my Business and Economic Ethics course, in a unit on business ethics in a mixed economy.
For reference purposes:
Academic title: "The Sociology of Dysfunctional Nonstandard Political-Economic Systems."
Public Intellectual title: "The Evolution of the Mixed Economy."
Casual title: "How We Got Into This Frackin' Mess."